Become an Aerial Photographer, Accessible to Everyone
A Breakdown of the TTRobotix GHOST+ Camera Quadcopter from Thunder Tiger
Dec. 11. 2014
Filming videos and taking photos from a flying quadcopter is becoming a popular activity, allowing the hobbyist to capture stunning images from never before seen perspectives.
TTRobotix's latest GHOST+ camera quadcopter package for GoPro Hero 3 and new GoPro Hero 4 Black can allow an individual to capture these images via the $1,350 quadcopter made by Thunder Tiger. The quadcopter, has four propellers, a removable battery and comes equipped with a GoPro gimbal stabilizer attached to the bottom, which can record shake-free, high-resolution images and high-definition video.
The GHOST+ comes with many other features and the illustration below will convey the information in a visualized way for you to understand easily. A user can control the quadcopter using a remote control hooked up to an Android smartphone (iPhone will be available soon) , where live flight data from the quadcopter can be monitored. By using the flight information from the smartphone and live video feed images from the FPV (First Person View) monitor, pilots can control the quadcopter even when it is out of a direct line of sight.
---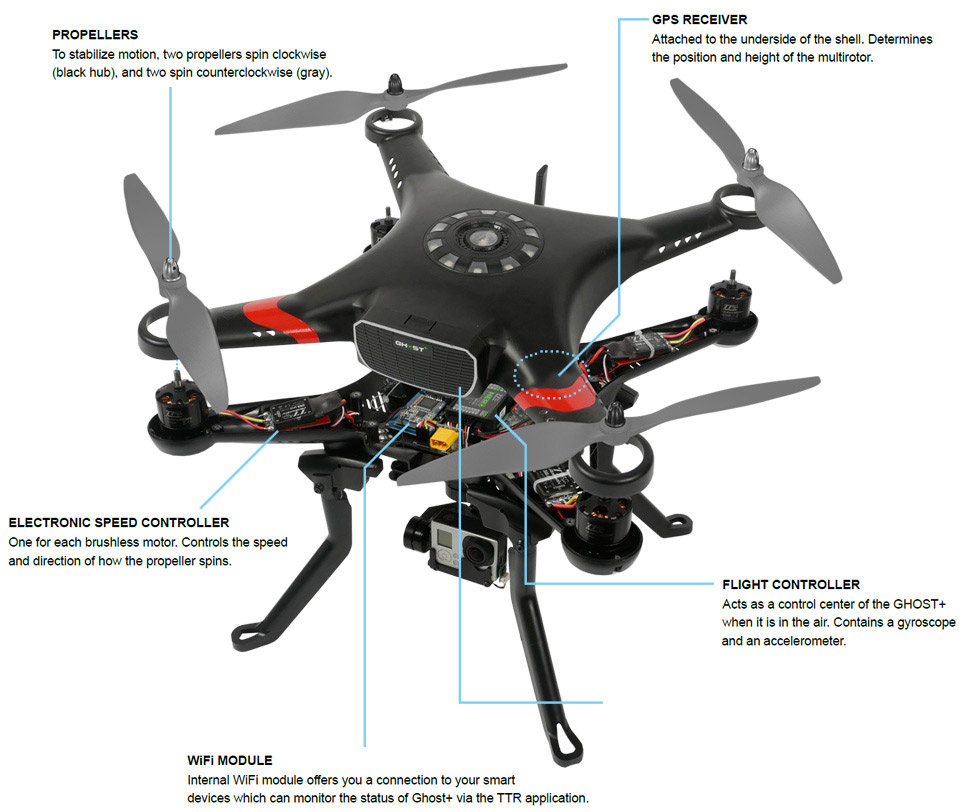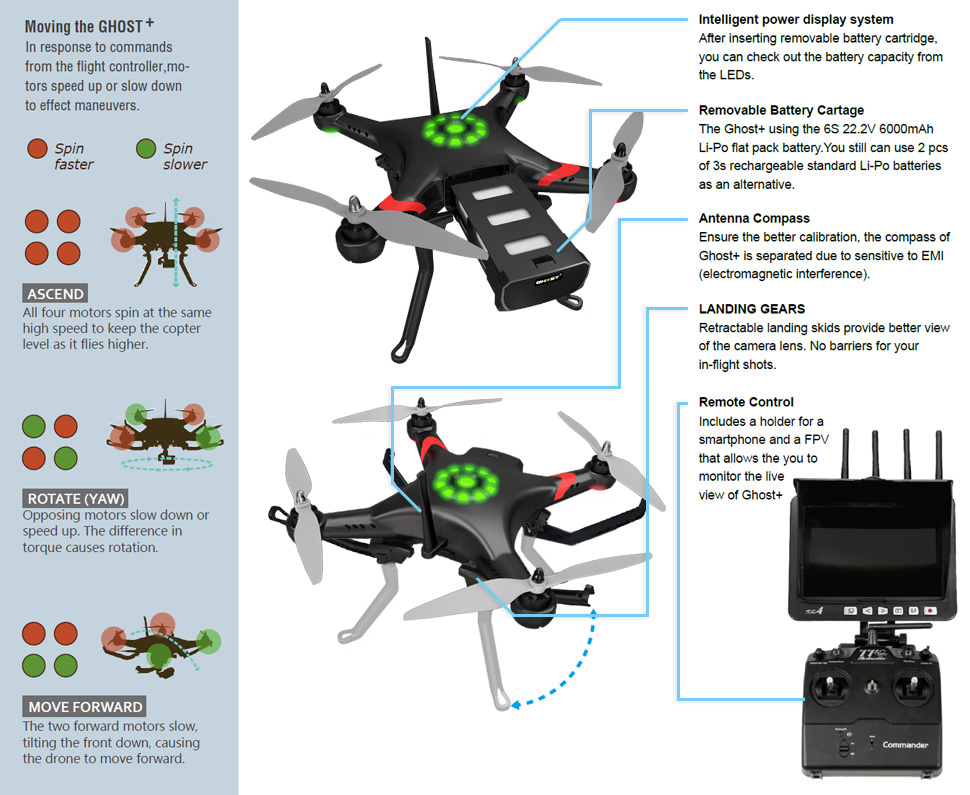 ---
The GHOST+ has a "follow me" feature that would allow the quadcopter to autonomously track a user. The upcoming firmware release will implement autonomous way point navigation feature.
Users flying the GHOST+ can capture images at different views by using the gimbal angle dial from the remote control. Watching the GHOST+ take off and land is exciting, because it has retractable landing gears, which can fold up after takeoff, allowing you to shoot 360 degrees of unobstructed video.
Flying GHOST+ is far easier than flying a remote control airplane or helicopter, thanks in part to the quadcopter's intelligent GPS flight controller. When a user lets go of the remote control, the GHOST+ will use a GPS device to position itself in mid-air. The GPS unit will assist to stabilize the quadcopter from external turbulence, such as strong gusts of wind. The Intelligent GPS flight controller can also be programmed to navigate the quadcopter to specific points in the air over time.
One can only imagine how easily the GHOST+ will help those who want to document sports or other events, or even those avid GoPro fans who want to capture the highlight of outdoor activities.
Ghost+


 

US$ 1,199
Ghost+ with


360 degree 3-Axis GoPro Gimbal

US$ 1,349
Frame type: Quad-Copter
Diagonal Distance: 450mm
Propeller Size: 12"
Battery: 22.2V - 6000 mAh
Max Payload: 0.81kg
Take-off Weight: 2.25kg
Max Flight Time: 25minutes
2.4GHz Remote Control Distance(open area): 1000m
With lightweight 12″ APC propellers.
Intelligent power system provides battery capacity check and anti spark design.
Matte black finish body shell with sleek scheme.
Retractable landing skid provides better view of camera lens.